Ah May, the month of exams and stress, stress, stress. You can tell that I tried to escape reality by the amount of Kindle books I powered through at the beginning of the month. Although they weren't all great, for the moments I read them they served their purpose of helping me forget I had responsibilities.
theodysseyonline.com
First up we have the beautiful Temeraire by Naomi Novik, which I started in April and finished on the first of May which seems a bit unfair but oh well. It's counted toward the May total anyway. Everyone and their mothers know I love dragons, so it's no surprise that I adored this book. Uprooted is one of my favourite fantasy novels this year, so when I saw the author had written a series all about dragons? Amazing. The relationship between dragon and handler was stunning, and the character of the dragon Temeraire was witty, charming, and just perfection. Five stars without doubt. I think I need to write a full review soon before I burst.
Now it's time to list the Kindle books. Brace yourself. First we had the first in the new Dive Bar series by Kylie Scott, which I thought was (and I quote from my 'what i read' journal, which I write in as soon as I finish a book) 'ok, but not earth shattering'. Thought it had a strong beginning with interesting premise (involved a runaway bride breaking and entering), but felt that interest wasn't maintained and I grew bored.
Then we had Strongest Steel by Scarlett Cole which I liked to start with as thought the main character's back story was dark with horrible happenings so thought it would be a serious, interesting contemporary, but once again I just grew bored.
Next is Evil by Tijan, which was much better for me as I always seem to enjoy Tijan's books. I may read a lot of fantasy, but I haven't read paranormal in ages so this was great fun to read. Funnily enough I picked up fantasy book Radiance after that by Grace Draven, which had the very interesting concept as far away from insta-love (my most hated trope, where two characters instantly fall in love) as you can get. Our two main characters are from different 'clans' if you will, one human and one not, and both detest the sight of the other. Having two characters repulsed by the other's appearance? I've never enjoyed it more.
Then one final kindle buy, Rule by Jennifer Blackwood, and I gave it two stars. Again I'll quote my reasons why from my journal, 'Was enjoyable enough and would have been three and a half stars with a better ending that wasn't so predictable. Too easy, felt like a cop-out'.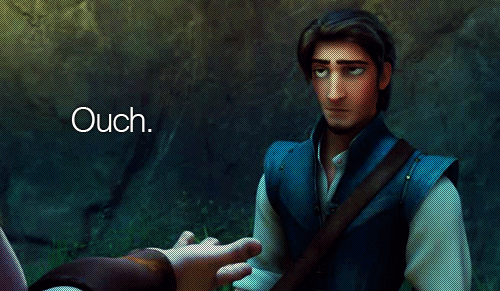 giphy.com
I also finished listening to the third Harry Potter this month, and it's my favourite so far for definite. I had my first experience with this series where I couldn't stop listening, and I really couldn't go to sleep yet because things were getting so good and amazing and Stephen Fry read faster we need to know what happens and it's already 1am.
The second, and final, physical book I read this month was The Bricks that Built the Houses by Kate Tempest, and if you're interested I've already written my review of it here. I think my favourite quote was 'the sky is the sea is the sea is the sky' to describe sitting on a beach and looking out to the ocean. A beautifully crafted book.
And so concludes this month's wrap up! That brings us to 22/50 for physical books and 38 in total! As we're almost halfway through the year, I'm pretty happy with where I am reading wise. Hopefully by the end of June I can say I reached the 25 book goal to make halfway, but who knows – maybe it will be slightly more!
tumblr.com